Area Quick Facts | Safety | Health, Education, Tourism, and Entertainment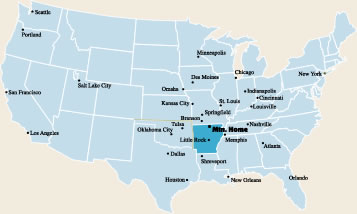 Area Quick Facts
Regional hub for retail and entertainment for many nearby cities, towns and recreational centers
Economy: well balanced mix of economic sectors –
Retail, Health Care, Manufacturing, Tourism, Finance, Retirement, Agriculture, Education and Construction
Lower than average housing costs, taxes and overall cost of living
Safe and friendly atmosphere
Mild, four-season climate
High-quality health care and educational services
Growing transportation network
Big city public and private services with small town atmosphere
Environment: clean air, lakes and rivers; abundant natural resources and recreational opportunities; commitment by community leaders to preserve the natural surroundings
For more information about the area, visit:


Safety



Mountain Home and the surrounding area consistently rank among the lowest in the nation for crime incidents. Law enforcement is provided through the Mountain Home City Police Department, Baxter County Sheriff's Office and the Arkansas State Police.



Twin Lakes Plaza is equipped with electronic monitoring and alarm devices for your convenience.


Health, Education, Tourism, and Entertainment


Baxter Regional Medical Center (BRMC) is
a 265-bed facility with over 100 active staff physicians. The BRMC staff provides quality health care for residents within a 14-county area surrounding Mountain Home. Baxter Regional is nationally recognized for its high level of patient satisfaction. The Mountain Home area offers an impressive, broad variety of health care options, particularly considering the size of the area. More>>>
The 135-acre campus of Arkansas State University-Mountain Home serves more
than 1,500 students and offers a number
of degree programs including associates, bachelors and masters degrees in conjunction with Arkansas State University's main campus in Jonesboro. Baxter County has a wide variety of educational resources and options available, from pre-school all the way up to and including non-credit workshops, seminars, lectures, and classes for all ages and interests. More>>>
The Mountain Home area was selected as #2 in Field & Stream magazine as a top fishing destination. The surrounding lakes and rivers provide opportunities for a wide variety of angling as well as recreational water sports. More>>>
Big Creek Golf and Country Club offers state-of-the-art practice facility with multi-tiered driving range, putting green, practice bunker and chipping green. Pro shop, restaurant and bar are available for members.
Photo courtesy of Big Creek Golf and Country Club.